Why books by women? To learn from each other, to support each other and to raise the visibility of women. The challenges women face are often unique. So, who better to learn from then other women!
"How women can lead in a new way. How we can create a new model of leadership in our own image… We were creating our own game, and going to write and tell, our own story" Jennifer Palmieri
Please post your questions, suggestions and comments.
What books do you want to see reviewed?

Have you written a book that you would like included in the list?

Topics – personal growth, leadership, success, finance, time management, public speaking, networking, branding, career, communication, marketing, sales, organization, goals, time management, startups, writing and more.
Please post your questions, suggestions and comments.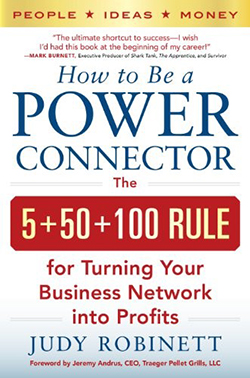 How to Be a Power Connector
How to Be a Power Connector The 5+50+100 Rule for Turning Your Business Network into Profits
by Judy Robinett
The Artist Within by Whitney Ferre

Say It Right… by Lillian Glass

Break Your Own Rules by Jill Flynn, Kathryn Heath, Mary Davis Holt

Headstrong 52 Women Who Changed Science- and the World by Rachel Swaby

Fantastic Marketing by Meredith Oliver

Good Enough Now by Jessica Pettitt

Playing Big by Tara Mohr

You've Only Three Seconds by Camille Lavington

Thrive by Arianna Huffington
How to Be a Power Connector
The 5+50+100 Rule for Turning Your Business Network into Profits
Publisher's Summary
Create a personal "power grid" of influence to spark professional and personal success.
"Other people have the answers, deals, money, access, power, and in uence you need to get what you want in this world. To achieve any goal, you need other people to help you do it." — JUDY ROBINETT
As anyone in business knows, strategic planning is critical to achieving long-term success. In How to Be a Power Connector, super-networker Judy Robinett argues that strategic relationship planning should be your top priority.
When you combine your specific skills and talents with a clear, workable path for creating and managing your relationships, nothing will stop you from meeting your goals. With high-value connections, you'll tap into a dynamic "power grid" of influence guaranteed to accelerate your personal and professional success.
Robinett uses her decades of experience connecting the world's highest achievers with one another to help you build high-value relationships. She reveals all the secrets of her trade, including proven ways to:
Find and enter the best network "ecosystem" to meet your goals
Reach even the most unreachable people quickly and effectively
Get anyone's contact information within 30 seconds
Create a "3-D connection" that adds value to multiple people at the same time
Access key influencers through industry and community events
Subtly seed conversation with information about interests and needs
Use social media to your best advantage
Robinett has based her methods on solid research proving that social groups begin to break up when they become larger than 150 people, and that 50 members is the optimal size for group communication. As such, she has developed what she calls the "5+50+100" method: contact your top 5 connections daily, your Key 50 weekly, and your Vital 100 monthly. This is your power grid, and it will work wonders for your career. Nothing will stop you when you learn How to Be a Power Connector.